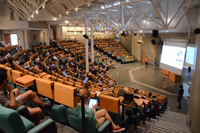 From July 18 to 23, the Prague City welcomed the 2015 Annual Computational Neuroscience Meeting. One of the organizers was the Institute of Physiology CAS.
The purpose of the Organization for Computational Neurosciences is to create a scientific and educational forum for students, scientists, other professionals and the general public to learn about, to share, to contribute to, and to advance the state of knowledge in computational neuroscience.
More and more, studies are emphasizing circuitry and network function in the brain. Investigations are focused on the changes of the functional and anatomical features in a healthy brain as compared to dysfunctional brain states; thus, studies of the healthy brain fuel insights into brain dysfunction, whilst observations of dysfunctional brain states give clues to normal brain function. This workshop explored computation in both the healthy and dysfunctional brain to uncover what each state might reveal about the other.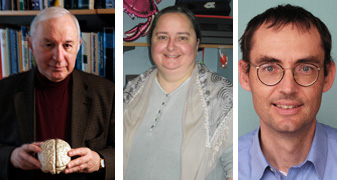 From the left: Jack Cowan, Astrid Prinz and Wulfram Gerstner

Editor of Academic bulletin Jana Olivová interview the keynote speakers of CNS 2015 Jack Cowan and Wulfram Gerstner and president CNS 2015 Astrid Prinz .
Jack Cowan, Professor in Mathematics and Neurology

Astrid Prinz, president CNS 2015

Wulfram Gerstner, Laboratory of Computational Neuroscience at the EPFL